Hello and welcome back to my blog. Now that school is back in session and I've moved up a grade, things are a lot harder this year.
The teachers expect more from you, there's more homework, and the biggest "more" of them all: more quizzes and tests. 
Last year, the teachers called quizzes and tests, "reviews." (Personally, I think that was a much nicer way to say, "we hope you learned what we were supposed to.") At the end of each week, we had spelling reviews, math reviews, social studies reviews, review reviews (just kidding on that one).
This year, the reviews are over. Now, it's quizzes and tests. And there's no disguising that we're supposed to learn more things in a shorter amount of time.
This brings me to this month's life lesson: the importance of working smarter, not harder to succeed.
Put the work into your workbooks
I would consider myself someone who's "medium smart." I do better in some subjects—like reading and writing (of course)—compared to others. No, I'm not telling you which ones, silly! I follow directions pretty well, turn in assignments on time, and I like to participate in class. On last year's report card, my teacher even said, "Noodle is a pleasure to have in class." All in all, I think teachers view me as a pretty good student.
But here's the thing: I thought I tried hard on my last spelling quiz, and I didn't do as well as I hoped.
This is what happened…
We got our new spelling workbooks at the beginning of the week. Unfortunately, I forgot my spelling workbook at school on Monday. That was the first night we were supposed to review our new words. The spelling quiz wasn't until Friday, so my teacher said not to worry. She told me I could just add Monday's work to Tuesday's. That meant that I'd have ten definitions to write out on notecards instead of five.
Not a big deal. Or so I thought.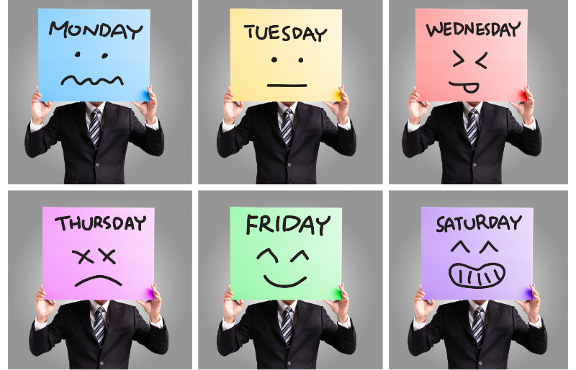 Words to the Wise
On Tuesday, I remembered my workbook, but couldn't remember where in my room I'd left the blank notecards. After I finally found the notecards (thanks, Mom, for looking in the waaay back of my drawer), I had a great idea. Wouldn't my definitions look better if I also drew pictures on the notecards? I thought so. 
Well, turns out that my drawings took a little bit longer than I'd expected. I got so wrapped up in the drawing, that I had to rush to finish my spelling homework. I still had other homework to complete, and I also had to practice piano. As a result, I may or may not have made a few mistakes on my spelling notecards. 
On Wednesday, I had soccer practice and wasn't in the mood to review my spelling words. Instead, I fixed up the pictures I'd drawn on the notecards.
Thursday was the day I had piano lessons. My teacher is really strict, but I like her a lot. I'd practiced hard all week, and she said I'd done a great job. Although I knew I should've reviewed my spelling words before dinner, I decided to celebrate my good piano lesson by reading a magazine. I was only going to read for five minutes. But wouldn't you know it? I lost track of time. I read for thirty minutes.
I ended up reviewing my spelling words before bed. I was kind of tired, so I probably didn't review the words as much as I should have. I guess maybe I wasn't working smarter or harder to succeed.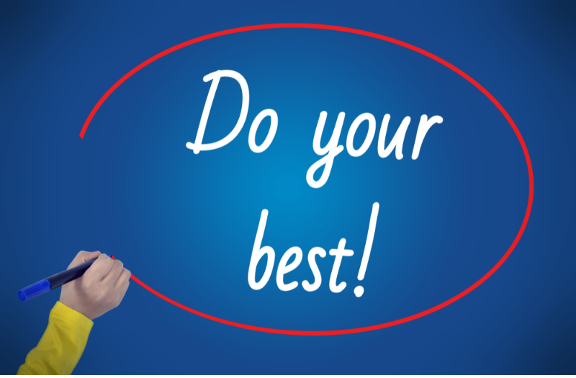 Do your best, forget the rest?
I was a little worried about the quiz on Friday. I only knew the words kind of well. In the past, though, I'd always ended up doing fine. 
The spelling quiz was pretty basic. The only surprises were the two bonus questions. They were both hard. (One was how to spell "supercalifragilisticexpialidocious." I didn't get that one right, for sure!) When I finished the quiz, I felt OK. Definitely not great. I knew that I probably hadn't done my best. But, it was only the first quiz of the year. Not a big deal.
By the time recess came around, I had forgotten all about the spelling quiz. 
On Monday, we got our spelling quizzes back. I knew I'd gotten the bonus questions wrong, but I was surprised to see my score. I got a twenty-nine out of thirty-five. That would be a B- in letters or an eighty-three in percentages.
When I studied for a spelling review last year, I'd usually only one or two questions wrong (that is, if I didn't get a perfect score). This time, I got six wrong!
I was disappointed with myself for not doing my best.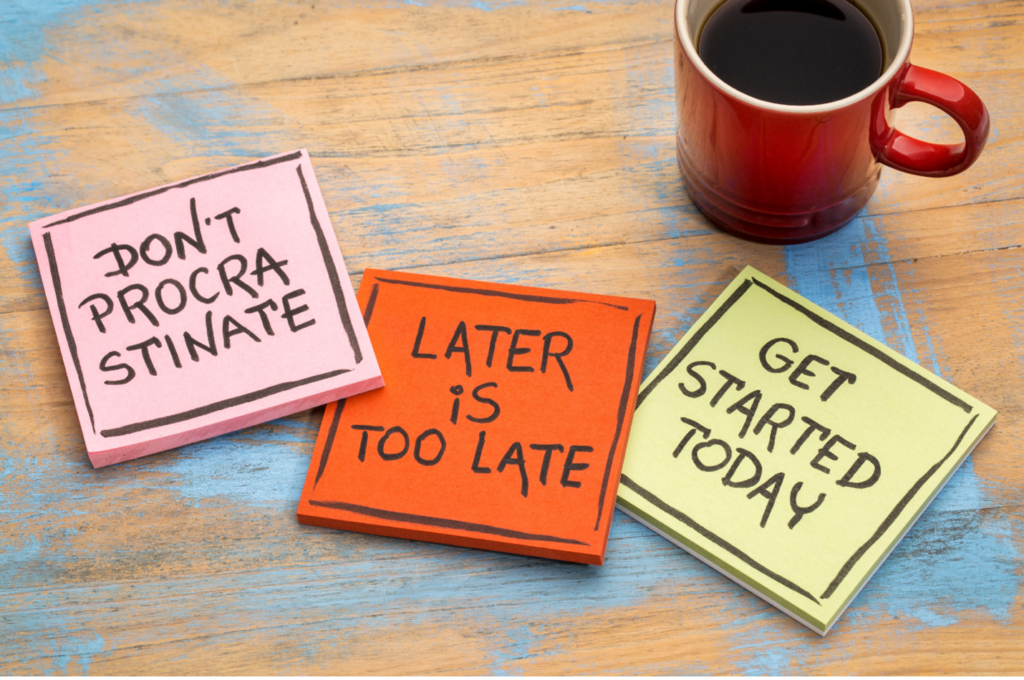 Focus on what gets the job done
I know that my score wasn't that bad, but I was still kind of annoyed that I'd gotten so many wrong. So, I complained to my mom. 
Bad idea.
Number one, you should never complain to your mom about not studying enough if she's a teacher. Number two, never complain about not studying enough to someone who is a very organized person. You don't get sympathy.
"What do you think happened, Noodle?" my mom said when she looked over my quiz. 
"Umm," I said, studying a very important piece of lint on our rug. I could feel my mom's eyes burning a hole in my head.
"Well?" she asked again. I was certain her eyes had laser beams, yet no smoke or fire was coming out of my head.
"So, I, uh, don't think I studied enough," I admitted, kicking at the lint. The lint got stuck on my sock.
"How so?" my mom asked. She was really good at asking questions without "yes" or "no" answers.
"Maybe I spent too much time drawing pictures and not enough time paying attention to the definitions?" I said as if I were asking the questions. My mom looked at me as if I should be saying more. 
"And perhaps I should've studied earlier," I quickly added. I glanced up and saw my mother shaking her head in agreement. 
"That's right," she said. "You wasted a lot of time this week on things that weren't going to help you with your quiz. What do you think you should do differently next week?" 
Argh. Another open-ended question. What would be a good response?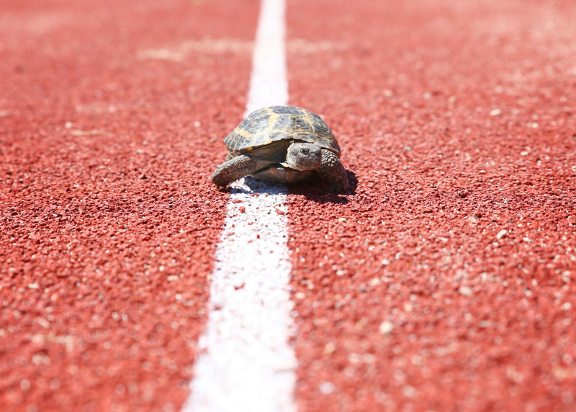 Channel your inner tortoise (slow and steady)
I thought about my mom's question for a moment.
"Well, I have to plan better. That means knowing what the homework is, and having what I need to complete it," I began. "I should also do a little bit of spelling each night. That way, I can remember a few words before I add new ones. And make sure that when I'm supposed to be studying, I'm actually studying." I looked at my mom to see if she agreed with my strategy. She gave me a single nod.
"That sounds like a great approach," she said. "I'm here if you need any help or want someone to review with."
When it came time to do my homework this week, things went much better. 
Although my spelling notecards weren't as pretty without any drawings on them, I actually ended up completing my homework faster. I didn't waste time on things that weren't going to help me complete my assignments.
So that was my lesson learned—work smarter, not necessarily harder. Break big assignments into little pieces so there isn't as much work to do along the way. Sort of like a tortoise, slow and steady. 
As I get older, I'm sure I'll have a lot more homework. But my big sister Jill says that I'll get to have a later bedtime. I sure hope it's nine-thirty or ten o'clock.
OK, it's time for me to finish my reading homework. I promise I'll be back soon.
Until then, be your best you.
Have you ever learned a trick or strategy for improving how you do something? Tell me about it in the comments section!