Vogue…ish
Hello and happy fall. With the back-to-school shopping season over, I can now breathe a sigh of relief. My kids are clothed for at least six to nine months…or until their next growth spurt hits. 
I am, of course, being overly dramatic here. As of now, there is very little stress involved in shopping for my kid. They leave the house with some variation of "sportswear" just about every day. The biggest criteria for any outfit my boys wear is comfort.  
I, on the other hand, am still recovering from the back-to-school shopping experience I had as a child in the 1980s. You see, I lived in a second-tier fashion world. This was a parallel, yet alternative, universe to the trendiest clothing of the time. While many kids I knew wore the most popular brands and styles, I didn't. I wore the something that looked substantially similar but was always slightly different in style or color.

Living in a mall-terial world
When I grew up, the choices for buying clothes were either: shopping malls (very expensive), discount stores (less expensive), or thrift stores (least expensive, but least dependable selection). My sister and my prayers for a fashionable but slightly older relative or friend always went unanswered. Hence living in the second-tier fashion world.
I grew up in a household of comfortably middle class means. My sister and I didn't want for anything, but as far as I could tell, we didn't live excessively.
My parents were—and still are—focused on value. When it came to clothing, that meant buying nice things, but not paying top dollar. It didn't make sense to spend a fortune on clothes, particularly when my sister and I were still growing.  
As a result, clothing shopping consisted of trying to find something that was both stylish and moderately priced. That meant we shopped at discount stores. 
The closest discount store to our home was Marshall's, though later, TJ Maxx came to town. Shopping at these stores meant that we could potentially get designer brands at discount prices. (That sounds just like an advertisement, doesn't it?) 
I think my comfort with wearing unusually colored clothing developed from shopping at Marshall's. If I wanted a brand name, I had to be content with a shirt or pair of pants that was a bolder color choice than what was popular. Or, perhaps there was something a little off with the clothing's stitching or design. If the irregularity wasn't that noticeable, it was worth it just to have that brand name. 
To a reasonably fashion-conscious child (which I think may be an overly generous term for myself both then and now), wearing clothes that looked similar to what was popular should have been enough. But at the time, I didn't feel that way. I put the blame squarely on the Benetton rugby shirt.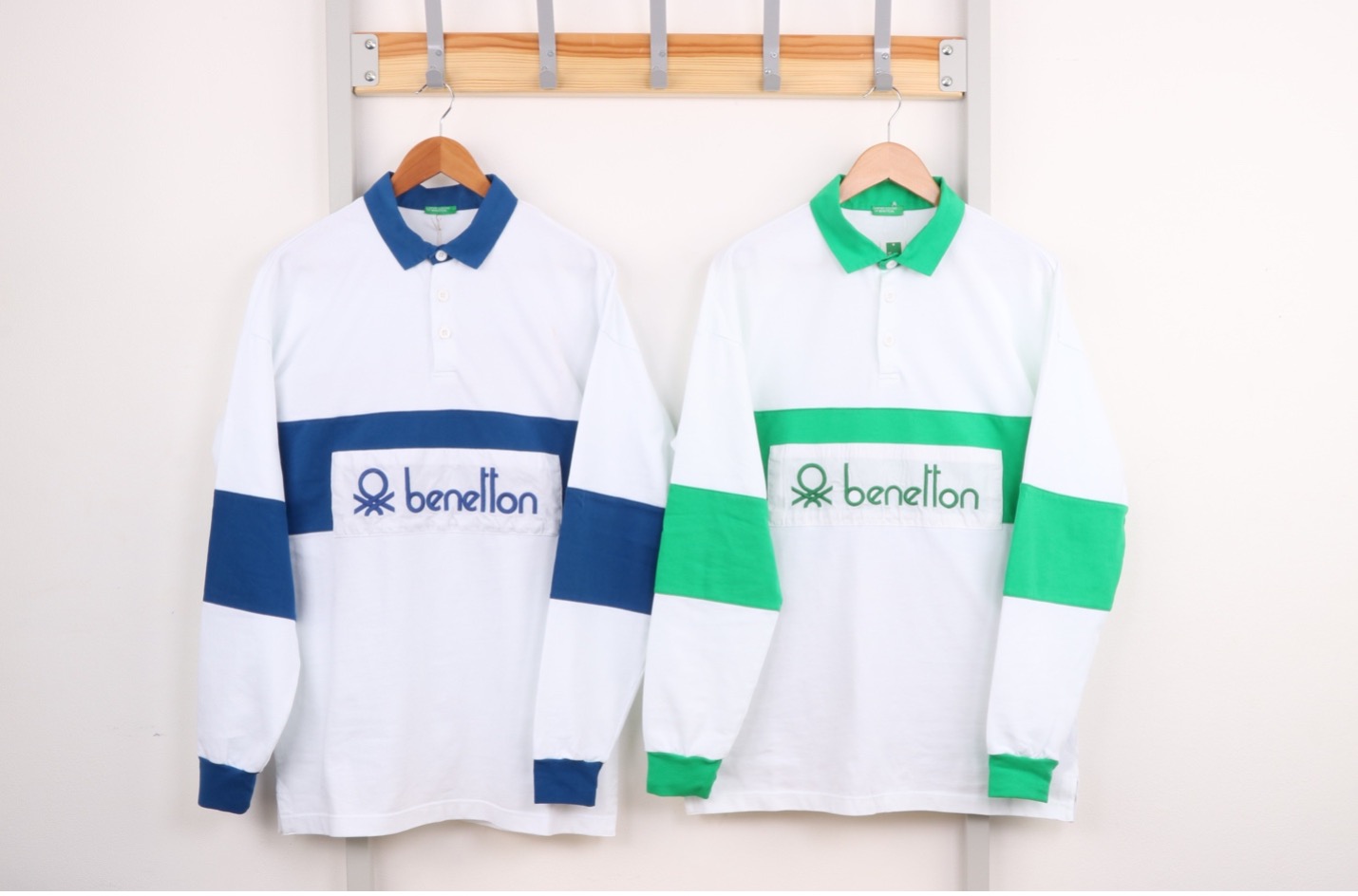 Photo from www.80scasualclassics.co.uk/blog
Green (+ blue + red + yellow) with envy
I'll admit it. I was envious of those kids who wore nicer, more expensive clothes. My jealousy was best encapsulated by those people who wore the iconic Benetton rugby shirt.
Perhaps you remember it. The 1980s Benetton rugby shirt was a long-sleeve cotton, white polo shirt with a bold horizontal stripe of color. And let's not forget that humongous Benetton logo emblazoned across the front. These shirts came in a variety of colors. There were oh so many colors. Blue, red, green, yellow, multi-color…a variation for every possible color palette. 
To have a Benetton rugby shirt was a status symbol in my mind. You were "on trend," as we'd say in modern parlance (or perhaps that was last season's parlance since I'm still behind a few steps behind the current fashion cycle).  
If memory serves me correctly, the Benetton rugby shirt cost around $40 or $50. Forty dollars was a lot for a shirt back then (even for a basic kid's shirt, I think it still is). In comparison, I believe my budget for a regular article of clothing was typically around fifteen dollars or less.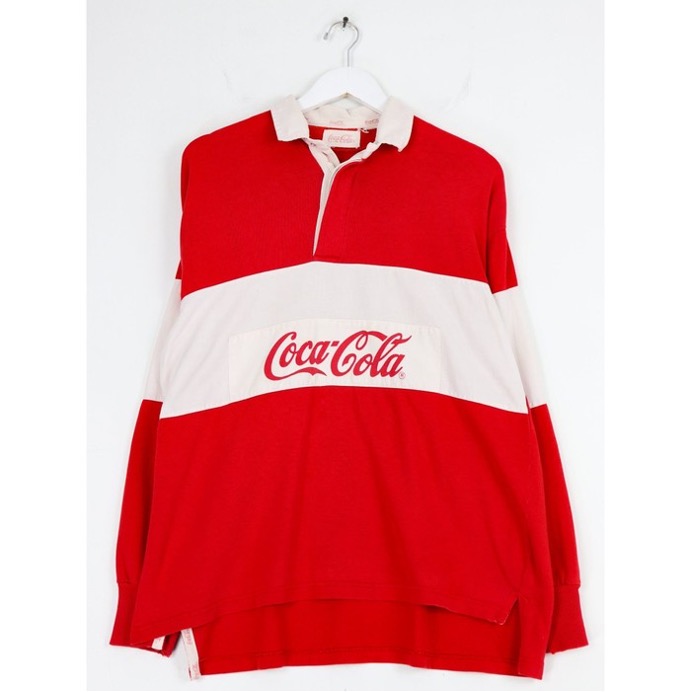 Photo from www.grailed.com
Always Coca Cola
Since Benetton rugby shirts were way out of my price range, I prayed to the Marshall's g-ds for an alternative. My prayers were answered in the form of the Coca Cola rugby shirt. At a fraction of the cost, the Coca Cola rugby was exactly the same style as the Benetton shirt, except for the comically garish "Coca Cola" logo adorned across the front. Even though it was clearly a knock-off of the Benetton shirt, for its price point, the Coca Cola rugby would have to do. 
I distinctly remember scouring the aisles of Marshall's for any Coca Cola rugby shirt. I didn't care what the colors were. I didn't care if it was a size too big. I just wanted something that looked like the Benetton version.
One back-to-school shopping season, Marshall's somehow had a huge amount of Coca Cola brand clothing. So, I branched out beyond the rugby shirt. I bought anything with the Coca Cola logo on it. 
I recall having a very elaborate jean jacket with a red Coca Cola design embroidered on the back. I'm fairly certain it was hideous. I didn't care. I also had a Coca Cola steeplechasing t-shirt. Again, I didn't care. Even better, I actually went to the library to look up what steeplechasing was. (It's basically an obstacle course with horses in which competitors race by jumping over fences and ditches.) 
The irony of my wearing all this Coca Cola paraphernalia was that I only had soda on special occasions.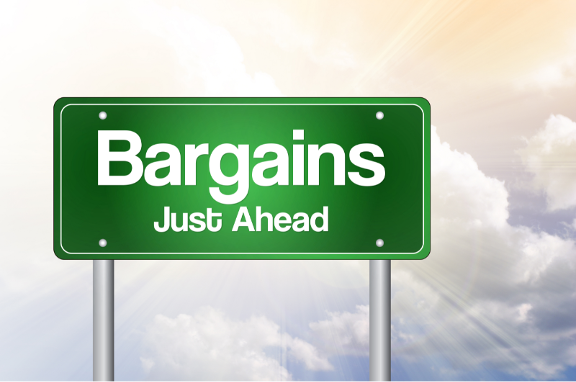 Bargain hunting and gathering
Although I don't recall anyone ever commenting on my Coca Cola apparel, in my mind, I always felt like I was living in a second-tier fashion world. And no, I never got that Benetton rugby shirt. 
Fast forward to the present…old habits die hard. As an adult, I am still a bargain shopper. And I'm a bargain shopper even more so when it comes to buying clothing for my two tween-age boys. Gosh, they grow fast.
Thankfully, they really don't care what they wear as long as they're comfortable. If it it's a recognizable sporty brand, that's good enough for them. And although they can be a bit pickier when it comes to sneakers, I am still a stickler on having them pick moderately priced footwear. (Particularly since their feet seem to grow a size overnight.)
Unlike my 1980s childhood, today it's harder to tell how much you paid for something. There are far more options for people to dress fashionably at reasonable prices. In addition to the endless shopping options available courtesy of the internet, there are outlet malls, and also designer resellers—which are basically thrift stores with search engines.
I don't know if my kids will ever fully appreciate it, but they don't know how lucky they are growing up today.  I think I'll need to show them more pictures from my awkward childhood to prove this point. A perfect example is me at age 13: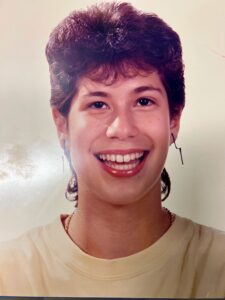 Clothing doesn't make the person
Now of course I'm exaggerating. I didn't live in such a wealthy place that everyone but me wore the fanciest designer clothes. In fact, it was quite the opposite. But experiences are all relative to your perception.
But there's a broader lesson that I'd learned from growing up in what felt like a second-tier fashion world: there will always be people who have more than you, just as there are always people who will have less than you. The key is to become comfortable with who you are and not what you have. 
Truth be told, I'm guessing that even if I had a Benetton rugby shirt in blue (though I also would've been happy with red), I still would've felt insecure. I have struggled with confidence all my life. One really expensive shirt and a pair of acid washed jeans wouldn't have changed that. 
So for anyone reading this blog who covets their own equivalent of a Benetton rugby shirt, I say this: embrace your Coca Cola rugby shirt, embroidered jean jacket, or steeplechase t-shirt. You are who you are. Accept that your strengths and beauty come from within, not whether you cover them up in designer apparel. 
I am now at peace with my wardrobe, which consists of mostly of nondescript styles and colors. And I never say no to visiting a discount store. So take that, you beautifully bold and iconic Benetton rugby shirt. [Sigh]
Are there memories from your childhood that you view differently now? What were they? Please share them with me in the comments section.